The Chips For Game Skills is active again. CRGP started late in September 2019 and will continue for the three following months. The fall semester will be learning, practicing, teamworking and all teams aiming to get their game ready for publishing at Demoday, to be held on 12th December 2019.
Students taking part in CRGP 2019 are from Metropolia UAS, Laurea UAS, Stadin ammattiopisto, and Amiedu. 105 students were registered, nearly all found their way to the starting session on Monday morning. Thirteen pitches were heard at Metropolia University of Applied Science's campus in Hämeentie 161 with a strict 3 minutes timeline.

The pitched ideas for games had planned to be 2D/3D/VR, many still hesitant should they publish for PC/console or mobile, and single/multiplayer modes. Horror, fantasy, and alien worlds were the main themes. Puzzles were mentioned in nearly all of the pitches as part of the gameplay.

The games to be seen on the Demoday on December 2019, if a team will be formed around the idea, will be:

Dancing in the moonlight
Mech Game
Undone
Dodo Farm
Follow the beat
Roots of Eeveel
Incandescence
Experditions
Warrior Infested Planet
VR Escape room
Spirit Runner
Mörkö
That other bird game
The teams will be selected by teachers, based on the wishlist of each participating student. The teachers and coaches from Amiedu, Stadin AO, Haaga-Helia, Laurea and Metropolia will guide the teams in game design, branding and marketing, 2D/3D arts and graphics, coding, sound, and even producing, soft skills and teamwork. The course's content is topped with industry professionals giving their lectures on specific topics during the fall semester.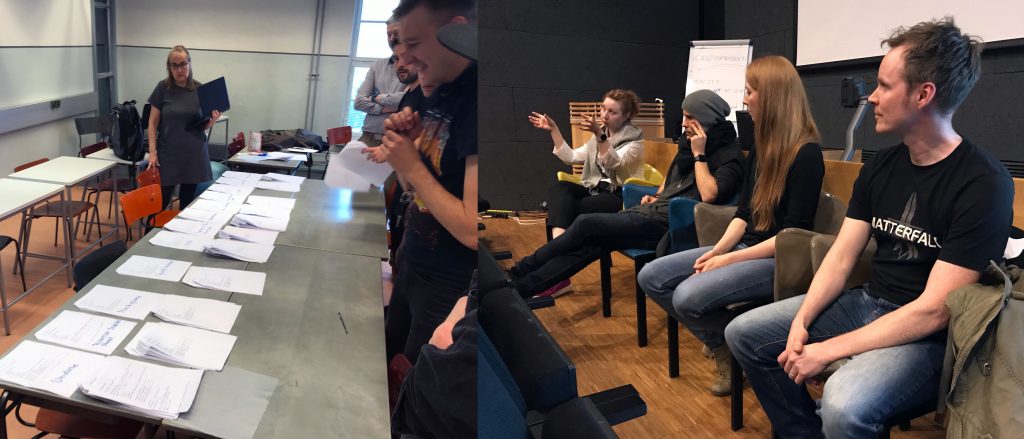 Panel Discussion
Experts of the industry were invited to give individual speeches for the attending students and finalizing the day, a joint panel discussion was held. Experts Emilia Machuca (Pockethunt and WiG), Joonas Häll (IGDA), Niko Mäkelä (Housemarque) and Elisa Heikura (Koodarikuiskaaja). The moderator was Johanna Mäkeläinen (Haaga-Helia).
Finnish Game Industry? Where is it going?
Emilia noted that the greatest growth seems to be over, but the middle-sized companies have steady growth, and the biggest houses hire only for senior positions where they are seeking for globally wanted talents. "The Game Consulting business model seems to be growing", added Joonas.
Elisa reminded that even there is a talk about lacking talents in ICT, there are a lot of people graduating and not getting a job. Her advice was not to be arrogant, but willing to learn and start from the junior position.
A question from the audience: Are games still being made out of passion or just based on business? "Without the passion and creativity the business would not stay alive", Emilia pointed out. Niko added:" Business side is not the angle to start with your pitching, the original ideas really sell."
Platforms – PC vs Mobile?
Joonas felt the mobile games have an annoying bad stigma. Much due to monetizing features that lack sometimes moral. "It's like whichever platform you have shitty and good games", he reminded. "Vast majority of Finnish game companies are in mobile game business", Emilia added.
So, how to choose the right platform for your game? Panelists gave a few points to consider: if the game is simple enough, you can have both, but it's quite rare. Placing the game on some app store costs money, PC is cheaper to start with. Most importantly, the idea comes first and then the choice of platform. Don't try to make both unless it is super simple.
Diversity in teams and characters
Panelists had a mutual understanding that the diversity of both in-game developer teams and in-game characters are important. To make a great game, different perspectives from different people are needed. Elisa pointed out that the creation of any product is nowadays a mixture of already existing stuff, so more ideas from variable sources give more solutions. However, game testing might not require such a wide diversity, if you know your target group and demographics.
At Housemarque, there is a push for diversity – it influences human resourcing decisions. Having the skills is important but they can be taught. Most important is how the person will go with the team. Diverse teams achieve better than homogenous teams. How to define diversity is also an important debate. What comes to hiring decisions, Joonas commented: "It all depends on how the day of the person hiring has been, it's not a precise science."
Panelists reminded that when adding diversity into games, the developers must stand behind their choices. "Non-binary characters are emerging", Emilia pointed out. Joonas comforted the audience: "No matter how good a character you make, someone will be complaining about it." Elisa reminded us that it's useless to fight on social media: "Be the difference, do the difference, but online just save you energy."
What if we don't make it? was asked from the audience
"School is the perfect place to fail. Still, it will feel so much more rewarding to finish it", Joonas answered. Emilia continued: "Finish your concept, at least. It does not matter if you don't get the entire game done. You will still learn a lot!"
Final learnings – Any Good tips you missed when you started?
I don't have to anything. Accepting the costs of your wantings. – Elisa
My gaming, not the academic final thesis, got me to this career – Emilia
In addition to coding skills, things like diversity and experiences are valuable – Joonas
For more detailed information of the schedule and content of the course, please visit the CRGP homepage.